The DRS Vision
We've created the Series Rules & Scoring, but we'd really like everyone to know what we're trying to do with this racing series as we hope that will make sense of the rules. We may not always have it right either, and we're open to improving ahead of a main series later in the year, so constructive feedback is always welcome!
One fundamental thing we've learned from racing at the top and bottom of categories … is that it's more fun if you can contribute! So we've tried to keep this at the core of the DIRT Racing Series.
– Its for a Team of between 4 and 8 riders
– Who can race in the same small-category
– To compete for 4 different virtual trophies
– Having a fair and competitive racing experience
Teams & Timezones
We think its more fun when teams race together, so we do need the teams to be of riders of the same category and riding the same timezone. Its also the only way we can all know who we're racing against.


Right now we've gone for the following timezones (See Series Schedule).

We'd love this to be so successful that we can open up even more time slots up for the next season, so if you can find a way to make this time work for this season we think you'll be glad you did and you help us prove there is enough demand for more time slots next season!



We know that making up your teams might be a little more difficult with the small category boundaries, so whilst we will allow teams of up to 8 riders – for the Points and iTTs it will only be the best 4 scores that will count.

This means that even if you're a small team or your team end up with #dirtlife challenges then you've still got a great chance!
However we don't want lots of people getting FOMO so all 8 can race if they want!
Categories
We've picked ZwiftRacing.app divisions for our DRS Categories.

These are the biggest race categories with 90% of the racers in these categories – hence they need splitting to even out the distribution of who's hauling in the points!

We've tried to keep it simple though by automatically showing your DRS Category on your Rider Dashboard after you registered yourself as a rider.

Don't panic about riding up a category to be with your team if they are stronger, because the category boundaries are quite small.





Transparency is important to us. No categorisation is perfect, we know that, but we want to do the best with what looks like the best solution available.

So we will be transparent that there is a 200-ranking point improvement LIMIT. Anyone who improves their ranking by more than 200 points was not correctly ranked in the first place. This is to ensure that no-one who is under-ranked can expect to take best results in a DRS Race.
Above this then you will get a DQ and then be asked to race in the category above for future races.
Just make sure you do a Qualifying Race (pretty much any race that isn't ZRL, a TTT, nor a Chase race) in the 30-days prior to registration freeze where you include a real full-out 5-minute effort. If you've done that, you can be pretty sure you won't be able to break the improvement limit.

The great news with the new system is that we will allow rider progression throughout the series. So if you start off in the right category, you do perform well and improve your ranking (but by less that the Ranking Improvement Limit) then you will be allowed to continue with your team in the same category for the rest of the DRS Season.
Its going to be down to Team Captains to make sure that everyone is in the right pen. To help the Team Captains out a bit we provide them a very useful Team Dashboard, which will show them flagged riders in their team.
The Leaderboards & Points
League Classification. This is the big one.

There will be up to 20 Teams in a Category and League Points running from 20 to 1.
All races count and the winner has the most League Points at the end.



Rider Classification. Which individual won the most points.

iTT and Points Stages will count.
The winner is the one with the most Total Rider Points.



Sprinter Classification. Who is the fastest sprinter?

All Stages that include timed Sprint segments will count.
The winner has the most Segment Points on the Sprint segments.



Climber Classification. Who is the mountain goat?

All Stages that include timed KOM segments will count.
The winner has the most Fastest Through Segment on the KOM segments.
Team Time Trials
Nice and simple – up to 8 riders and it's the time of your 4th rider that crosses the line.
Points Races and Individual Time Trials
We've made sure there are valuable Finishing Points all the way through the pack – with special uplifts for a Top 10, Top 20 or Top 50 finish.
We've done this because we've all smashed a sprint as best we can, or tried and failed to make a breakaway, just for 40th place … but this time it will be worth doing!
However, the podium and the winners of the race will still make the biggest difference to the Team score, as they should!
So here's how it works.
Finishing Points:
70th and below gets 2 points. Every position higher gets 1 extra point. And then there are cumulative steps up at 50th, 20th, 10th, 3rd, 2nd & of course 1st. Full points table can be found in the
Series Rules & Scoring
.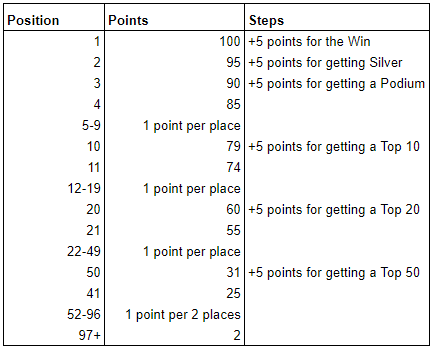 Fastest Through Segment and First Across the Line (Primes) for Points races and iTTs
We hope that in the DRS there will be different racers getting the bonus points compared to those who win the race. Which is why we will have Fastest Through Segment and First Across the Line, but with balanced scoring (where most of the weight is on Finishing Points). There's also a fresh chance every lap for FTS and FAL in multi-lap races.
We think that will best balance out who can contribute in the teams and allow Sprinters & Climbers to play in their own competition in parallel. Oh, and we hope Sprinters and Climbers will still push for finish points as well because they are still so valuable all the way down the field!
There are even Fastest Through Segment in the iTT where there's no draft so it will not only be the race of truth but the Sprint and Climb of truth too. We're looking forward to seeing how that pans out!
Join us now!
Don't wait any longer, join in on the fun and register now!

Still in doubt?
If you have questions or are in need of riders for your team, join our Discord channel.