Stage 3 > Yorkshire > Queen's Highway
| Course | World | Format | Classification | Laps | Total distance | Total elevation |
| --- | --- | --- | --- | --- | --- | --- |
| - | - | Race | Hilly | 8 | - km | - m |
The actual
Queen's Highway
loop is rectangular and 3km long, but it begins with a lead-in of approximately 2.4km from the regular spawn point located in central Harrogate north of the start/finish and start pens. You will pass the Royal Pump Room on your right as you make your way north to the Cairn Hotel.
This road is part of the
Queen's Highway
loop, but you are still in the lead-in portion since the loop begins and ends at the sprint banner at the top of the climb. Climb up Kent Road, and give the long sprint all you've got. Once you're through the banner your Queen's Highway loop has officially begun.
(Warning: the
sprint segment
is uphill and rather long–almost 400 meters! So you'll have to pace yourself.)
The residential area you are riding through is an extremely desirable piece of real estate, and one of the poshest places in all of England to live. Fun fact: all the land is owned by the Duke of Lancaster who is, in fact, the Queen.
After you descend Cornwall Road you will climb past the Cairn Hotel again and up Kent Road for one final sprint effort to finish your lap.
Course Map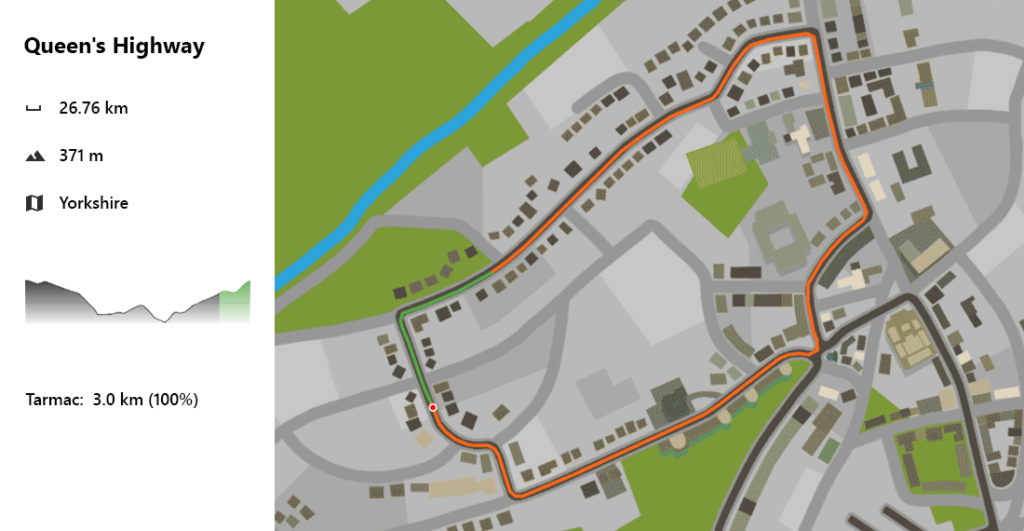 Course Profile

Segments in play
| Segment (in order of appearance) | Direction | Type | Scoring type | Scoring Laps | Distance | Average incline |
| --- | --- | --- | --- | --- | --- | --- |
| Yorkshire Sprint | Reverse | Sprint | FTS | 1 | 400 m | -% |
| Yorkshire Sprint | Reverse | Sprint | FAL | 3 | 400 m | -% |
| Yorkshire Sprint | Reverse | Sprint | FTS | 5 | 400 m | -% |
| Yorkshire Sprint | Reverse | Sprint | FAL | 7 | 400 m | -% |