Stage 3 > Watopia > Volcano Circuit CCW
| Course | World | Format | Classification | Total distance | Total elevation |
| --- | --- | --- | --- | --- | --- |
| Volcano Circuit CCW | Watopia | Race | Flat | 6 laps - 29.5 km | ↗ 152 m |
Welcome, riders, to a stage built for sprinters – Stage 3 of The DIRT Racing Series – Volcano Circuit CCW. In the heart of the Watopia map, you'll experience a VERY hot course that's perfect for those with a "hot" need for speed.
Course Highlights:
Location: Volcano Circuit CCW, Watopia.
Distance: 6 laps.
Timed Segments: Volcano Circuit Lap (see below).
Race Format: Points Race.
Course Description:
The Volcano Circuit CCW course beckons with its thrilling terrain, offering not one, not two, but three timed sprint segments – three exhilarating laps around the Volcano Circuit. It's a sprinter's dream, where power and speed rule the day. Are you ready to unleash your inner rocket?
The grand finale of this stage awaits you at the end of lap 6, where you'll be "molten" into a frenzy of excitement. It's a dash to the finish line that will leave you "smoking'" and "burning" with the desire to claim glory in the world of the DIRT Racing Series.
Get ready to ride, get ready to sprint, and get ready to seize the title in Stage 3, where the road to glory is a fast and "explosive" one. This is where champions rise from the depths of the "volcanic" terrain.
Course Map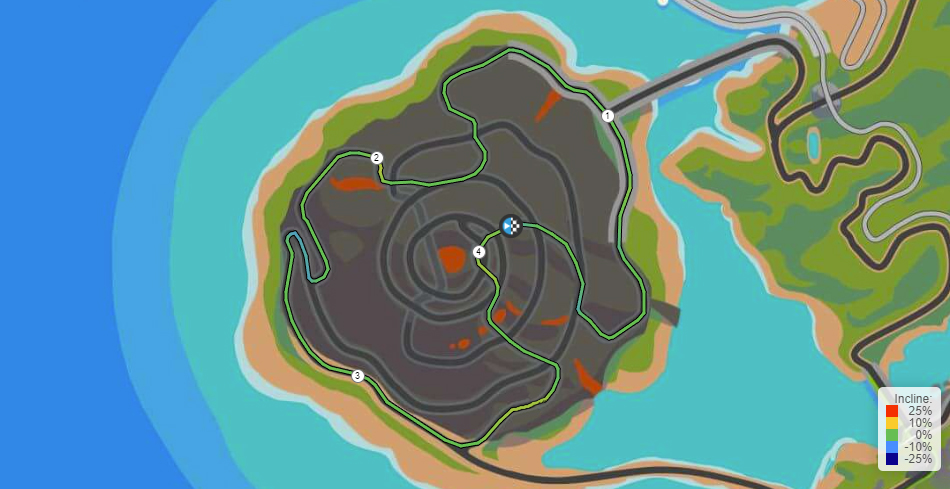 Course profile
Segments in play
| Segment (in order of appearance) | Direction | Type | Scoring type | Scoring Laps | Distance | Elevation Gain | Average incline |
| --- | --- | --- | --- | --- | --- | --- | --- |
| Volcano Circuit Lap | Reverse | Sprint | FTS | 1 | 4.1 km | 17 m | -% |
| Volcano Circuit Lap | Reverse | Sprint | FAL | 3 | 4.1 km | 17 m | -% |
| Volcano Circuit Lap | Reverse | Sprint | FTS | 5 | 4.1 km | 17 m | -% |