Stage 3 > Scotland > The Muckle Yin
| Course | World | Format | Classification | Laps | Total distance | Total elevation |
| --- | --- | --- | --- | --- | --- | --- |
| The Muckle Yin | Scotland | Race | Hilly | 1 lap | 23.70 km | 282 m |
Stage 3 of the DIRT Racing Series will take place on the scenic The Muckle Yin course on the Scotland map, featuring 25.14 km of challenging terrain and a total elevation gain of 279 meters per lap.
The race will begin at the start/finish banner and will consist of 1 lap for a total distance of 25.14 km. The Muckle Yin course is perfect for Puncheur-type riders who excel on short, steep climbs and fast descents. The race will require a combination of power, (team) strategy, and endurance.
As you make your way through the course, you will encounter several challenging climbs and descents, including the brutal Sgurr Summit climb. The Sgurr Summit climb is a relatively short but steep gravel ascent that will test your (will)power to the limit. As this course is never flat be sure to take advantage of the descent that follows, as this will be your opportunity to recover and catch your breath before the next one!
The Muckle Yin course is known for its challenging terrain, but it also offers plenty of opportunities for strategic team racing. The race will require riders to think on their feet and make quick decisions in order to gain an advantage over their competitors. This means staying focused, anticipating the moves of other riders, and positioning yourself well on the climbs and descents.
Course Map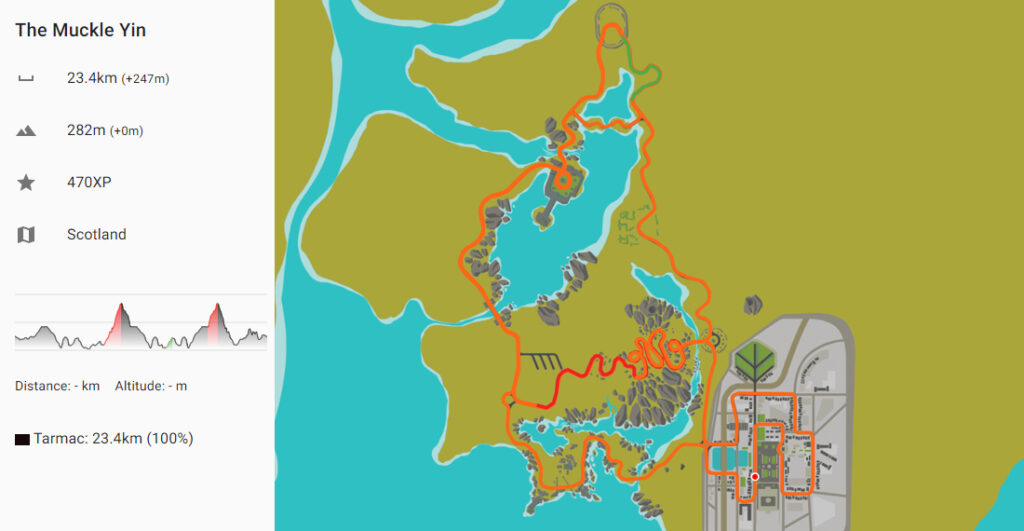 Course Profile

Segments in play
| Segment (in order of appearance) | Direction | Type | Scoring type | Distance (on route) | Average incline |
| --- | --- | --- | --- | --- | --- |
| Breakaway Brae Reverse | Reverse | Sprint | FAL | 450 m (5.3 - 5.7 km) | 2.19% |
| Sgurr Summit North | Reverse | Climb | FTS | 1.56 km (8.2 - 9.7 km) | 3.81% |
| Breakaway Brae | Forward | Sprint | FAL | 600 m (13.9 - 14.5 km) | 2.03% |