Stage 5 > Watopia > 2015 UCI Worlds Richmond
| Course | World | Format | Classification | Total distance | Total elevation |
| --- | --- | --- | --- | --- | --- |
| 2015 UCI Worlds Richmond | Richmond | Race | Hilly | 2 laps - 32.7 km | ↗ 318 m |
Get ready for a stage that's tailor-made for the Puncheurs among us. Stage 5 of The DIRT Racing Series takes you to the historic "2015 UCI Worlds Richmond" course on the Richmond map, offering a course that's as challenging as it is rewarding.
Course Highlights:
Location: 2015 UCI Worlds Richmond, Richmond.
Distance: 2 laps.
Timed Segments: Broad St Sprint, 23rd St KOM and Libby Hill KOM (see below).
Race Format: Points Race.
Course Description:
The course weaves through the historic streets of Richmond, offering not only a physical challenge but also a glimpse into the past. You'll navigate cobbled streets, tackle sharp turns, and feel the pulse of the race as you surge through this iconic circuit.
As you navigate the twists and turns of this storied course, you'll encounter a series of timed segments that will push your limits and showcase your versatility. One timed sprint, the Broad St Sprint, and two timed KOM segments – 23rd St KOM and Libby Hill KOM – are the ultimate tests of your power and tactical prowess.
Richmond is waiting for your triumph, and we're excited to make this stage unforgettable!
Course Map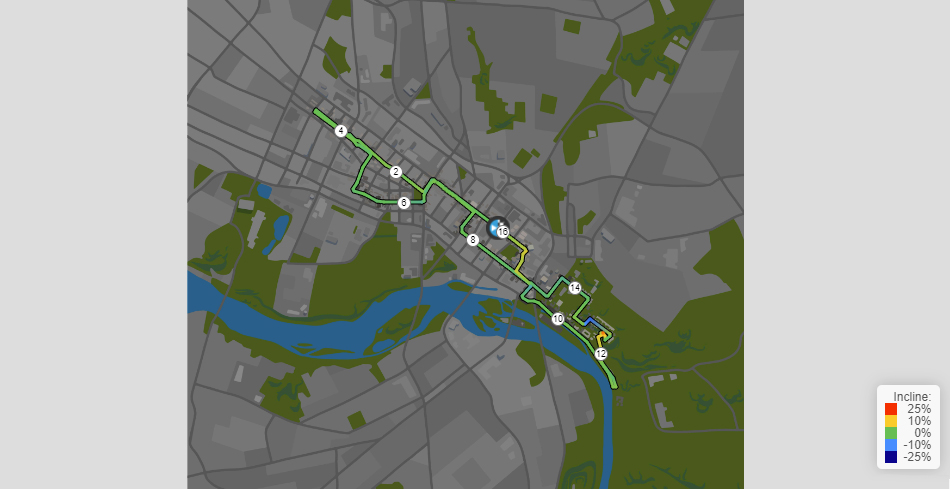 Course profile

Segments in play
| Segment (in order of appearance) | Direction | Type | Scoring type | Scoring laps | Distance | Elevation Gain | Average incline |
| --- | --- | --- | --- | --- | --- | --- | --- |
| Broad St. | Forward | Sprint | FTS | 1 | 0.28 km | 0.0 m | -0.1% |
| 23rd St. | Forward | KOM | FAL | 1 | 0.26 km | 24.1 m | 9.3% |
| Libby Hill | Forward | KOM | FTS | 2 | 0.64 km | 38.1 m | 6.0% |