Stage 5 > Harrogate > 2019 UCI Worlds Circuit
| Course | World | Format | Classification | Laps | Total distance | Total elevation |
| --- | --- | --- | --- | --- | --- | --- |
| Stay tuned | Stay tuned | Race | Hilly | 1 | 0.0 km | 0.0 m |
Route Description from Zwift Insider:
Roll through the start/finish banner in Harrogate, then turn right to head up Otley Road, the longest section of straight road on the Yorkshire course. As you make your way out of Harrogate proper you'll find yourself in the farm lands. Look for sheep, cows, and a friendly farmer on his tractor.
The
Yorkshire KOM
begins when you hit the stone bridge and turn a sharp left. The stream crossed here is called Oak Beck ("Beck" is used often in Yorkshire for a small river or stream). In real life, this bridge is narrow and crossing-controlled by traffic lights to be one way. But we Zwifters get to roll on through.
Hit that KOM, enjoy your descent, then turn a sharp left past the Royal Pumproom onto Millionaire's Row. You're now on Cornwall Road, in the Duchy Estate–one of the poshest places in all of England to live.
Your next right takes you onto the forward sprint, a short but punchy effort which is mostly uphill until the final few meters. Finish that sprint, enjoy your descent, and wrap up your loop of the Duchy Estate. (Note: the sprint is so short that Strava will not let us create a segment.)
You will pass the Royal Pumproom again (this time on your right). In the 18th and 19th centuries, Harrogate made its fortune by drawing often wealthy people to come and take its waters, which had a supposedly curative effect. Known locally as "The Pump Rooms", this is one location where these waters emerged from the ground.
As you turn the last right before the finish, note the Zwift Draft House on your left. This is the Cold Bath Brewery where Zwift is setting up shop and giving away its own custom brews during 2019 Worlds Week.
Almost there! The straightaway to the finish is uphill, so if you're racing be ready for an especially challenging effort in these final meters. You will pass "Scotty's" on the left, which in real life is Betty's Tearooms, a huge local landmark.
This final sprint is where Mark Cavendish famously crashed out of the 2014 Tour de France. Happily, Zwifters don't need to worry about such dangers, but you can certainly appreciate the massive effort put forth in this final drag to the finish.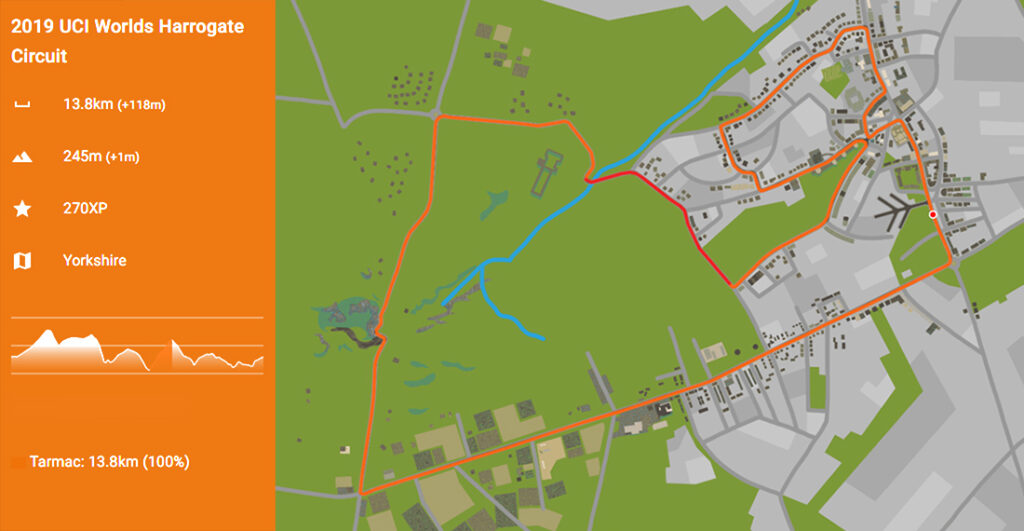 Course profile

Segments in play
| Segment (in order of appearance) | Direction | Type | Scoring type | Distance (on route) | Average incline |
| --- | --- | --- | --- | --- | --- |
| Yorkshire KOM / Yorkshire QOM | Forward | Climb | FTS | 1.2 km (7.6 - 8.8 km) | 5.50% |
| Yorkshire Sprint | Forward | Sprint | FTS | 250 m (10.7 - 11 km) | -% |