Stage 5 > New York > Lady Liberty
| Course | World | Format | Classification | Laps | Total distance | Total elevation |
| --- | --- | --- | --- | --- | --- | --- |
| - | - | Race | Hilly | 1 | - km | - m |
New York's
"Lady Liberty"
route is named for NYC's most famous landmark, the Statue of Liberty. The overall elevation gain on this route is more than twice her height though, so be prepared to work!
This route travels south from the start pens, then takes you up onto the
reverse KOM
(.7 miles, 5.9%) in short order. You're then taken down for an uphill
sprint
followed by a rolling loop around most of Central Park at ground level, only missing the northernmost portion of the park.
Route Description from Zwift Insider
Course map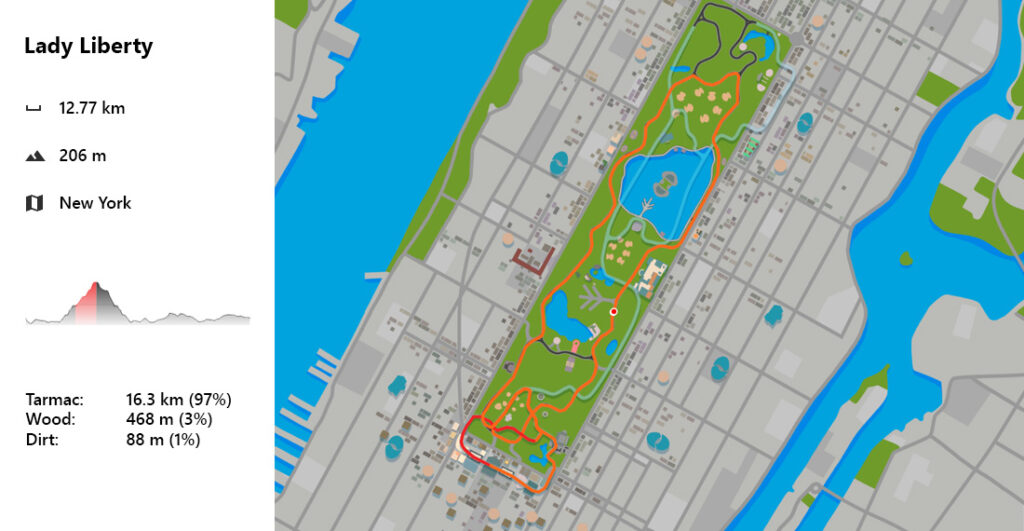 Course profile

Segments in play
| Segment (in order of appearance) | Direction | Type | Scoring type | Distance (on route) | Average incline |
| --- | --- | --- | --- | --- | --- |
| New York KOM / New York QOM | Reverse | Climb | FTS & FAL | 1.1 km (3.4 - 4.5 km) | 5.70% |
| NY Sprint | Reverse | Sprint | FTS & FAL | 230 m (6.7 - 6.9 km) | -% |