Stage 6 > Watopia > Zwift Gran Fondo
| Course | World | Format | Classification | Laps | Total distance | Total elevation |
| --- | --- | --- | --- | --- | --- | --- |
| Zwift Gran Fondo | Watopia | iTT | Hilly | 1- | 18.38 km* (custom) | 236 m |
Welcome to Stage 6 of The DIRT Racing Series! It's time to take on the second part of the back-to-back finale with a custom-finish "Zwift Gran Fondo" course on the Watopia map, featuring 18.4 km and a total elevation gain of 236 meters. This promises to be an epic finale.
The race starts at the Downtown Watopia and will take you through a stunning landscape of lush forests, towering mountains, and sparkling oceans. The course offers a mix of climbs, descents, and flat sections.
The course will take you up the roads of the Zwift KOM, with its steep gradients, challenging turns, and breathtaking views of the island. You'll need to dig deep and push yourself to the limit as you make your way up the climb. The ascent will be grueling, but the descent will be exhilarating, as you'll pick up speed and take on the twists and turns.
Get ready to take on one of the most challenging climbs on Zwift – the Volcano KOM! This segment starts at the base of the volcano and takes you on a grueling climb up steep gradients, with hairpin turns and breathtaking views of the island.
The finish line will be at the top of the Volcano KOM and remember, this climb is not for the faint-hearted! It will push even the strongest riders to their limits. You'll need to dig deep and maintain a steady pace to make it to the top, where you'll be rewarded with a sense of accomplishment and stunning views of the surrounding landscape.
Get ready to tackle the final stage of The DIRT Racing Series. Let's show the virtual world what we're made of and make this race one to remember!
Course map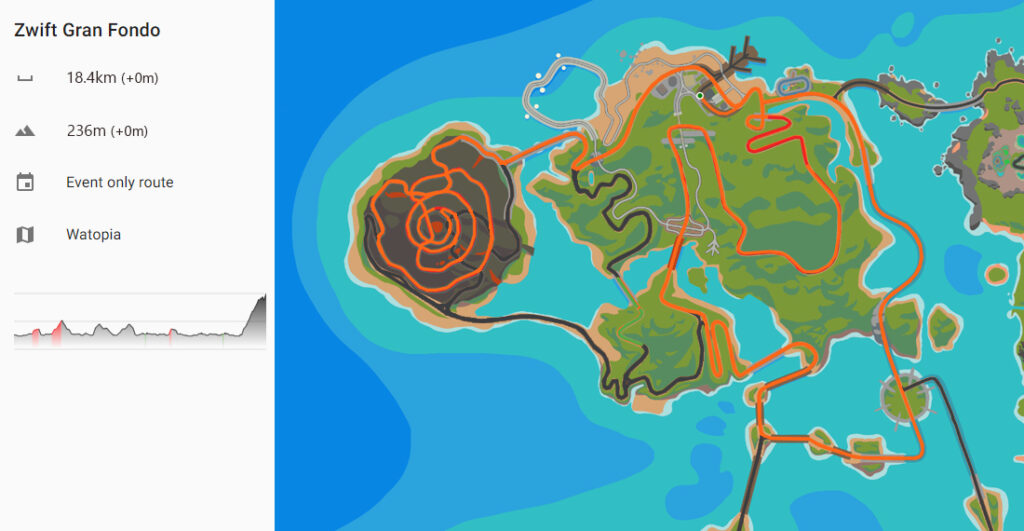 Course profile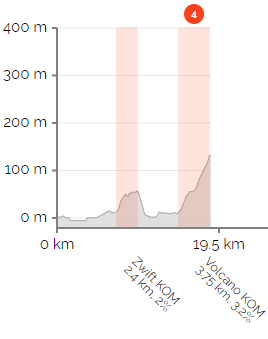 Segments in play
| Segment (in order of appearance) | Direction | Type | Scoring type | Distance (on route) | Average incline |
| --- | --- | --- | --- | --- | --- |
| Zwift KOM / Zwift QOM | Reverse | Climb | FTS | 2.5 km (7.1 - 9.6 km) | 2% |
| Volcano KOM / Volcano QOM | Forward | Climb | FTS | 3.75 km (14.6 - 18.3 km) | 3.20% |