Stage 4 > Watopia > Tick Tock
| Course | World | Format | Classification | Laps | Total distance | Total elevation |
| --- | --- | --- | --- | --- | --- | --- |
| - | - | TTT | Flat | 1 | - km | - m |
"Tick Tock"
is a clockwise loop covering Fuego Flats and portions of the Ocean Boulevard tube. Released as part of Zwift's Fuego Flats desert expansion, this route is flatter than Watopia Flat or Volcano Flat, with the only pitchy bits being in and out of Fuego Flats, and in and out of the ocean tunnel.
This is the second-flattest route in all of Zwift as the time of its release, with 2.6 meters of climbing per kilometer of road. (Tempus Fugit, the flattest, has .92m/km.)
Beginning in Fuego Flats, your trip will be pan-flat until you exit Saddle Springs and descend through the Redwood Forest. This descent maxes out at 3% and brings you to the entrance of the ocean tube which is a short downhill ramp. You then proceed through the flat tube, hit the ramp up and out, then hang a right toward Fuego Flats. You've got just a bit of gradual climb toward the start line, but nothing more than most cyclists would call a "rise."
There are lots of landmarks on this route to make this visually interesting and help you keep your bearings. First you pass the cliff dwellings near the first turnaround loop, then you hit the
forward 500m sprint
segment. Next you'll ride through the old town of Desert Flats (watch for the steam engine to come roaring through) then through a gap in the rocks to a hidden oasis complete with a waterfall and dinosaur fossils.
Continue on and you'll ride into Saddle Springs, the 1950's-inspired resort town. This is where the Tempus Fugit route turns around, but for Tick Tock we continue through town and down into the Redwood Forest–the longest descent on the route, but it's over before you know it!
Cross the bridge to Ocean Boulevard, then descend into the ocean tunnel. When you exit the tunnel you'll soon turn a right to cross another bridge toward the island containing Fuego Flats. Hit that
500m sprint
segment once more, and the stone arch is your finish line.
Route Description from Zwift Insider
Course Map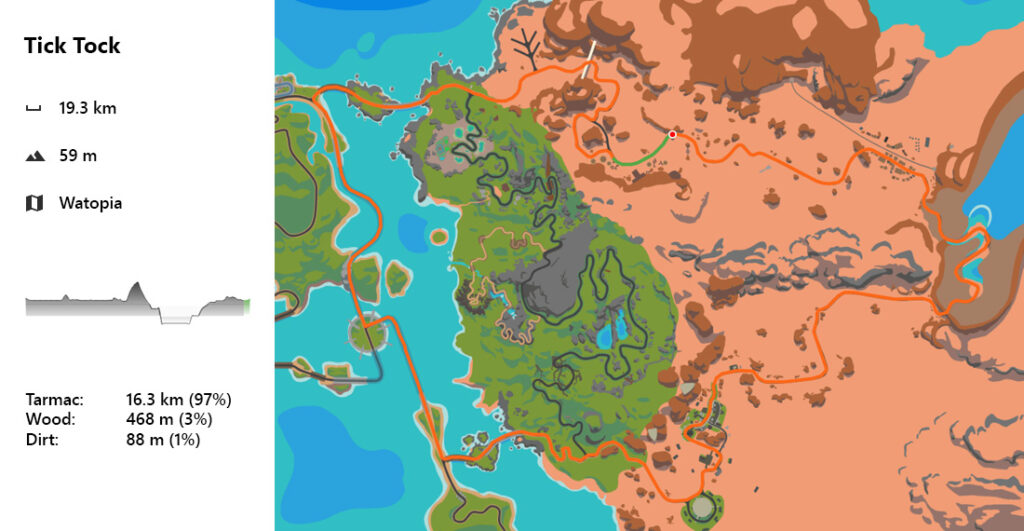 Course profile

Segments in play
Please note: there are NO segments in play.
| Segment (in order of appearance) | Direction | Type | Scoring type | Distance (on route) | Average incline |
| --- | --- | --- | --- | --- | --- |
| - | - | - | - | - | -% |