Stage 4 > Makuri Island > Chain Chomper
| Course | World | Format | Classification | Laps | Total distance | Total elevation |
| --- | --- | --- | --- | --- | --- | --- |
| Chain Chomper | Makuri Islands | Race | Hilly | 2 laps | 29.58 km | 371 m |
Welcome to Stage 4 of The DIRT Racing Series! Get ready to take on the challenge of Zwift's Chain Chomper course on the Makuri Island map, featuring 13.6 km of challenging terrain and a total elevation gain of 184 meters per lap.

With its mix of flat sections, punchy climbs, and fast descents, the Chain Chomper course is the perfect stage to put your e-cycling skills to the test. As you take on this two-lap challenge, you'll be treated to breathtaking views of the island and pushed to your limits as you battle for the top spot on our Team and Individual Leaderboards.
Starting at the Makuri Islands Pier, you'll face the early Castle KOM climbs that will quickly sort the wheat from the chaff. Next up is the challenging Temple KOM Reverse climb that will require you to dig deep and push your limits. Don't forget about the Country Sprint Reverse just before the finish banner!
As you complete your first lap, you'll have a chance to regroup and refuel before taking on the second lap. But don't let the familiarity of the course fool you, as the second lap will be just as challenging as the first.
The finish line at the Makuri Islands Pier is in sight, but you'll need to stay focused and push yourself to the limit to cross it first. So gear up and get ready to take on Stage 4 of The DIRT Racing Series. We can't wait to see what you're made of!
Important note: Stage 4 comes with an enforced Pinarello Dogma bike (no free bike choice, yes free wheel choice), as bike swaps could benefit Individual Leaderboards.
Course Map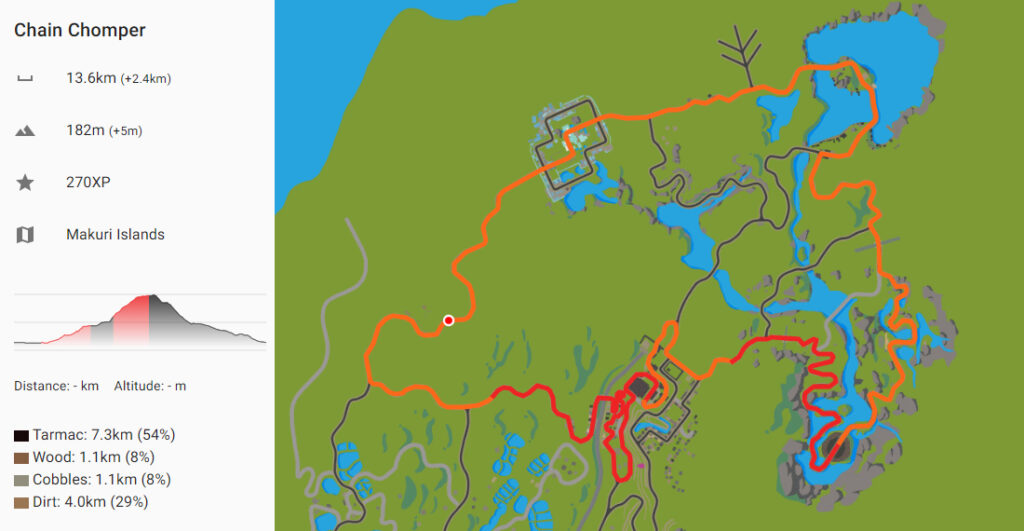 Course profile

Segments in play
| Segment (in order of appearance) | Direction | Type | Scoring type | Scoring laps | Distance (on route) | Average incline |
| --- | --- | --- | --- | --- | --- | --- |
| Country Sprint | Forward | Sprint | FTS | Lead-in | 146 m (2.2 - 2.3 km) | -% |
| Temple KOM / Temple QOM | Reverse | Climb | FAL | Lap 1 | 1.88 km (7.7 - 9.6 km) | 3.50% |
| Country Sprint | Forward | Sprint | FTS | Lap 1 | 146 m (15.8 - 16.0 km) | -% |
| Castle KOM / Castle QOM | Forward | Climb | FAL | Lap 2 | 2.49 km (17.3 - 20.1 km) | 2.10% |