Stage 4 > Watopia > Serpentine 8
| Course | World | Format | Classification | Total distance | Total elevation |
| --- | --- | --- | --- | --- | --- |
| Serpentine 8 | Watopia | TTR | Hilly | 1 lap - 26.7 km | ↗ 239 m |
Riders, prepare to embark on a journey that celebrates the art of unity and teamwork in e-cycling. Stage 4 of The DIRT Racing Series – Serpentine 8 Team Time Race is designed for the GC aficionados and promises an electrifying race format like no other.
Course Highlights:
Location: Serpentine 8, Watopia.
Distance: 1 lap.
Timed Segments: None (see below).
Race Format: Team Time Race.
Course Description:
The "Serpentine 8" course sets the stage for a unique racing experience. In the Team Time Race format, it's all about the collective power and synchrony of your squad. The Team Finish Time is determined by the 4th rider to cross the line, based on finish times recorded by ZwiftPower. It's a "race against the clock" where every (milli)second counts, and teamwork is your secret weapon.
What makes this stage even more exhilarating is the mass start with your own category. This means you'll not only race against the clock but also against your competitors in a category that matches your skill and prowess. It's an opportunity to showcase your strategy, coordination, and determination as a team.
Get ready to push the limits of collaboration, synchronize your efforts, and embrace the competitive spirit of The DIRT Racing Series. Stage 4 is where you'll prove that together, you can conquer any challenge and claim victory as one.
Course Map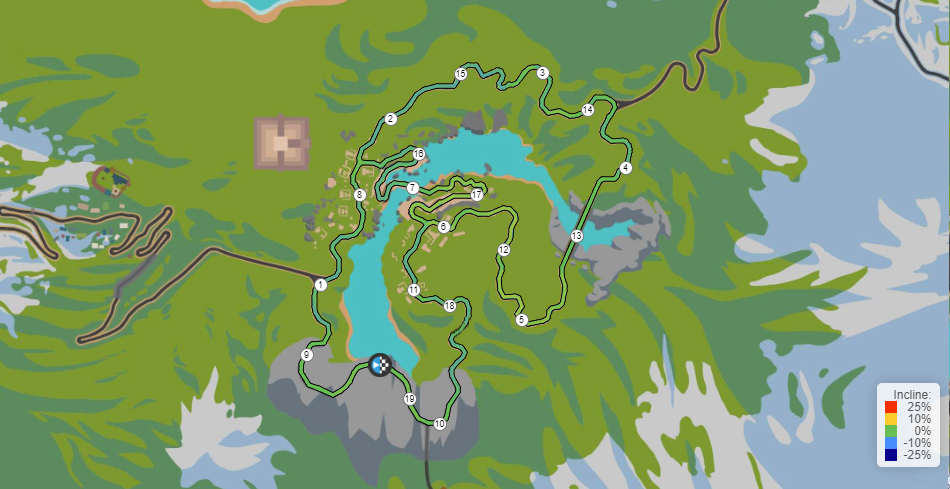 Course profile

Segments in play
Please note: there are no segments in play.
| Segment (in order of appearance) | Direction | Type | Scoring type | Scoring laps | Distance | Elevation Gain | Average incline |
| --- | --- | --- | --- | --- | --- | --- | --- |
| - | - | - | - | 0 | - | - | -% |