Stage 4 > Richmond > 2015 UCI Worlds Course
| Course | World | Format | Classification | Laps | Total distance | Total elevation |
| --- | --- | --- | --- | --- | --- | --- |
| Stay tuned | Stay tuned | TTT | Hilly | 1 | 0.0 km | 0.0 m |
Route Description from Zwift Insider:
The route begins on flat roads, taking riders through two sprint points: first the
Monument Avenue sprint
, then the
Broad Street sprint
. In terms of distance, this flat portion lasts for half of the route.
A long descent signals the start of the lumpier second half of the route. Riders will quickly arrive on the cobbles of famous
Libby Hill
– a twisty, punchy climb which will certainly put hurt in the legs and gaps in the peloton!
The
23rd Street KOM
follows soon afterward – a short, straight, steep climb. Can you attack like Sagan and stay away?
Keep your speed up into the descent, then it's a long, slow climb up to the false flat straightaway to the finish. The final kilometer is always a slugfest, and often the riders who go hard early are reeled back in when they run out of steam. Have you got what it takes?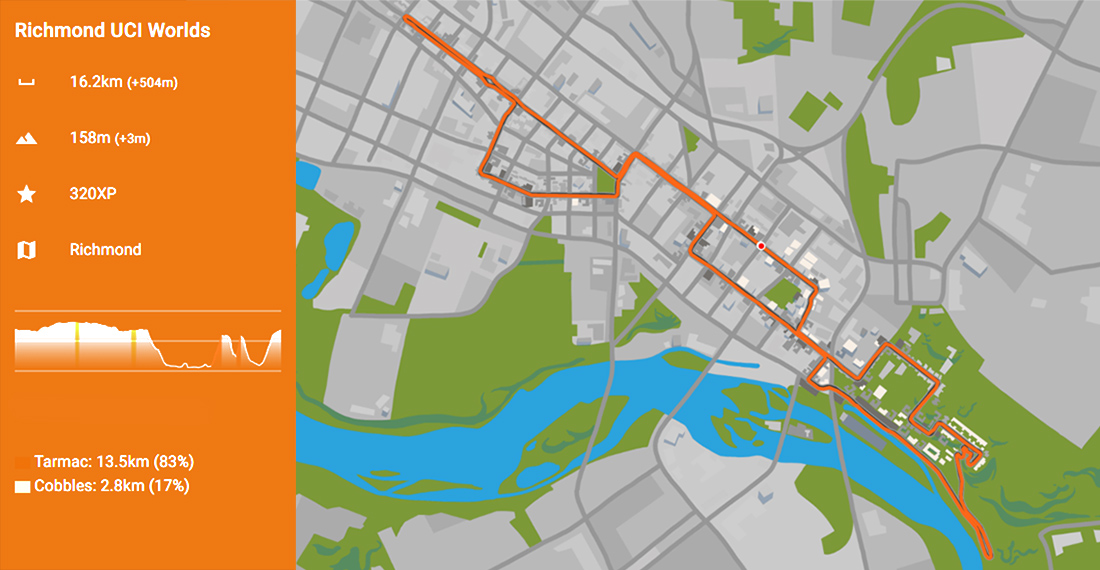 Course profile

Segments in play
| Segment (in order of appearance) | Direction | Type | Scoring type | Distance (on route) | Average incline |
| --- | --- | --- | --- | --- | --- |
| Sprint | Forward | Sprint | FTS | 221 m (4.3 - 4.3 km) | -% |
| Broad St. | Forward | Sprint | FAL | 283 m (7.7 - 7.9 km) | -% |
| KOM / QOM | Forward | Climb | FTS | 644 m (12.1 - 12.5 km) | 6.4% |
| 23rd St. | Forward | Climb | FAL | 275 m (13.6 - 13.8 km) | 10% |