Stage 1 > Watopia > Seaside Sprint
| Course | World | Format | Classification | Laps | Total distance | Total elevation |
| --- | --- | --- | --- | --- | --- | --- |
| Stay tuned | Stay tuned | iTT | Flat | 4 | 0.0 km | 0.0 m |
Route Description from Zwift Insider:
This clockwise loop begins at the sprint banner at the end of the Julynn Washington Bridge (JWB) between the Esses and Italian Villas. After passing under the banner you will ride over the cobbles of the Italian Villas, hang a right onto the twisty gravel road, then cross the land bridge to our magmatic friend, the Volcano.
Turn right at the fork after the land bridge, climbing up the short pitch into the volcano, and you will find yourself going through the Volcano Circuit banner. The lap counter just after the banner counts down how many laps you've got left.
Ride out of the volcano, turn right onto the glass bridge, then another right into the Esses. The Esses roller coaster will spit you out onto the short
reverse sprint
over the JWB.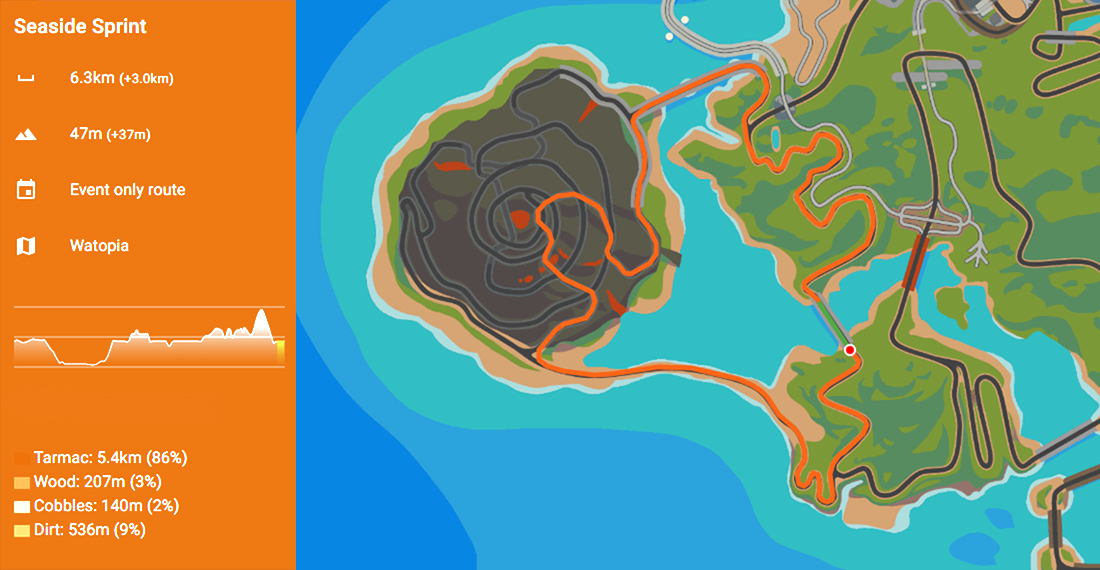 Course profile
Segments in play
IMPORTANT CLARIFICATION ABOUT INTERMEDIATES:
It's important to note that the lead-in will include the sprint segment, but the sprint segments that counts for points are in lap 1 and lap 3.
The sprint in the lead-in is NOT part of the timed segments!
If you want to be sure about the laps, check the lap counter in your HUD.
| Segment (in order of appearance) | Direction | Type | Scoring Type | Distance (on route) | Average incline |
| --- | --- | --- | --- | --- | --- |
| Sprint (lap 1) | Reverse | Sprint | FTS & FAL | 200 m (9.0 - 9.2 km) | -% |
| Sprint (lap 3) | Reverse | Sprint | FTS & FAL | 201 m (21.8 - 22.0 km) | -% |