Stage 1 > Crit City > Downtown Dolphin
Get ready for Stage 1 of the DIRT Racing Series, our very first Crit Race! This thrilling first stage will take place on the flat and fast Downtown Dolphin course, each lap featuring 1.9 km of pure adrenaline and excitement.
The race will begin at the Downtown Dolphin start/finish banner and will consist of 16 laps for a total distance of 30.5 km. The course is mostly flat with a few short inclines, so it's perfect for sprinters and those who love to push their limits on the flats.
The route will take you through the bustling city streets of Zwift's Crit City, offering you plenty of opportunities to take in the sights and sounds of this vibrant urban landscape. As you make your way through the course, be sure to keep an eye out for other riders, as the pace will be fast and furious.
The Downtown Dolphin Crit Race is not for the faint of heart, so be sure to come prepared with a solid race strategy and plenty of energy to spare.
Grab your bike, strap on your virtual helmet, and get ready to hit the streets of Crit City for an epic Stage 1 of the DIRT Racing Series!
| Course | World | Format | Classification | Laps | Total distance | Total elevation |
| --- | --- | --- | --- | --- | --- | --- |
| Downtown Dolphin | Crit City | Race | Flat | 16 laps | 31.43 km | 272 m |
Course map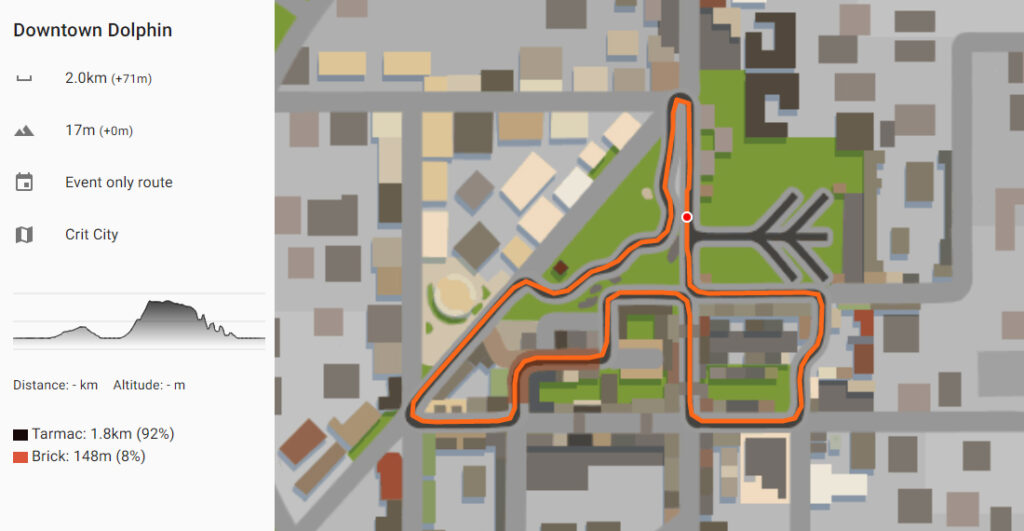 Course profile

Segments in play
| Segment (in order of appearance) | Direction | Type | Scoring Type | Scoring Laps | Distance | Average incline |
| --- | --- | --- | --- | --- | --- | --- |
| Crit City | Forward | Sprint | FAL | 2 & 8 | 1.95 km | -% |
| Prime | Forward | Sprint | FTS | 15 | 197 m | 4% |