Stage 1 > Makuri Islands > Island Hopper
| Course | World | Format | Classification | Total distance | Total elevation |
| --- | --- | --- | --- | --- | --- |
| Island Hopper | Makuri Islands | Race | Flat | 1.5 laps - 25.4 km | ↗ 182 m |
Welcome, riders, to the grand inauguration of our sixth season of the DIRT Racing Series! Get ready to launch into the excitement as we embark on 1.5 laps of the mesmerizing "Island Hopper" course, set amidst the scenic beauty of the Makuri Islands.
Course Highlights:
Location: Island Hopper, Makuri Islands.
Distance: 25.4 km.
Timed Segments: Boardwalk Sprint, Shisa Sprint, Tidepool Sprint (see below).
Race Format: Points Race.
Course Description:
This stage is tailor-made for the all-rounder in you. With its diverse terrain and challenges, it's the ultimate playground for riders who excel in every aspect of the sport. But that's not all! Prepare for an adrenaline-pumping experience as you encounter not one, not two, but three timed sprints – two Fastest Through Segment sprints (FTS) and one First Across the Line (FAL). This is your chance to showcase your versatility and tactical prowess.
And the pièce de résistance? A custom finish line that will leave you breathless, both from the climb and the sheer exhilaration of reaching the uphill finish. It awaits you at the peak of the legendary Mech Isle Loop Dirt Climb, precisely at the 25.4km mark.
This is where our first champions are crowned, and legends are born!
Course map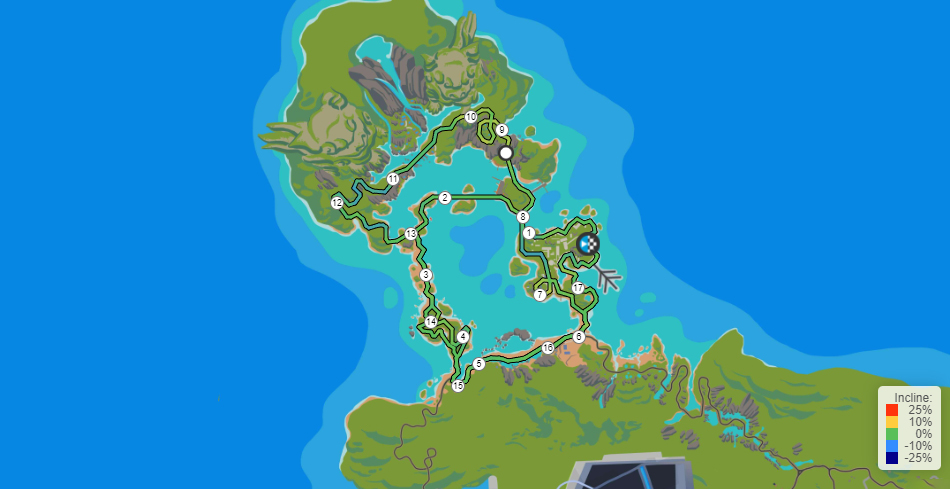 Course profile

Segments in play
| Segment (in order of appearance) | Direction | Type | Scoring Type | Scoring Laps | Distance | Elevation Gain | Average incline |
| --- | --- | --- | --- | --- | --- | --- | --- |
| Boardwalk Sprint | Forward | Sprint | FTS | 1 | 240 m | 0.0 m | 0.0% |
| Shisa Sprint | Reverse | Sprint | FAL | 1 | 290 m | 2.1 m | 0.7% |
| Tidepool Sprint | Reverse | Sprint | FTS | 2 | 310 m | 0.0 m | 0.0% |