Stage 2 > Watopia > Three Sisters
| Course | World | Format | Classification | Laps | Total distance | Total elevation |
| --- | --- | --- | --- | --- | --- | --- |
| Stay tuned | Stay tuned | Race | Mountainous | 1 | 0.0 km | 0.0 m |
Route Description from Zwift Insider:
Begin at the standard downtown Watopia start point, and head directly up the
Hilly KOM forward
. This short climb was the first timed KOM segment on Watopia, but it's far from the toughest!
Catch a breather descending from the Hilly KOM banner, then hang a left onto Ocean Boulevard and a right at Sequoia Circle to make your way onto the longest climb of the route: the
Epic KOM forward
. This was the longest climb in all of Zwift when it was released, but it is now dwarfed by Alpe du Zwift. Don't underestimate the Epic KOM, though: it's got plenty of suffering in store, and the super steep
"bonus climb" up to the radio tower
just adds insult to injury!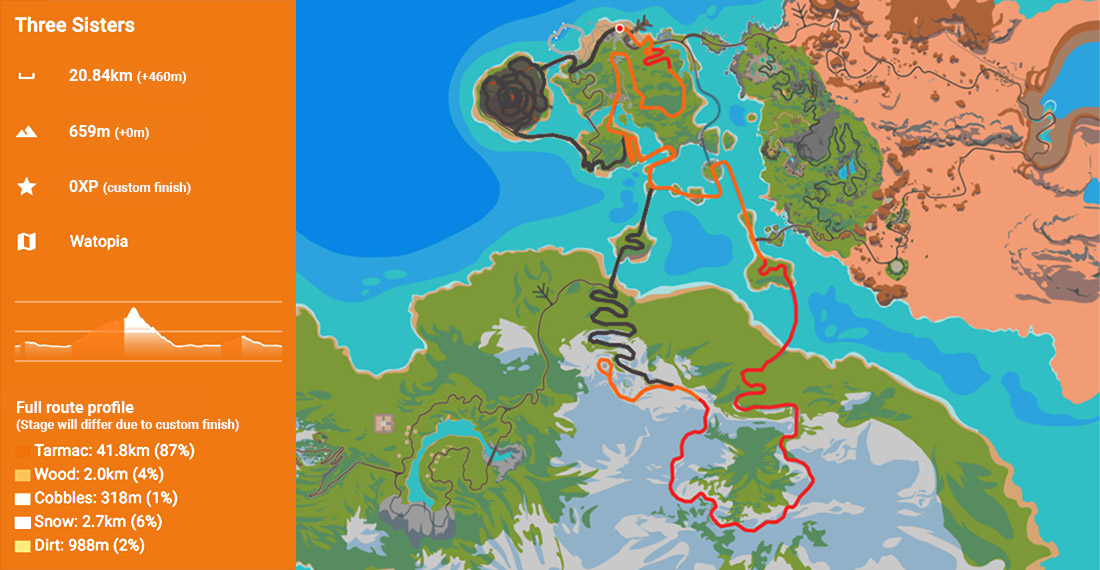 Course profile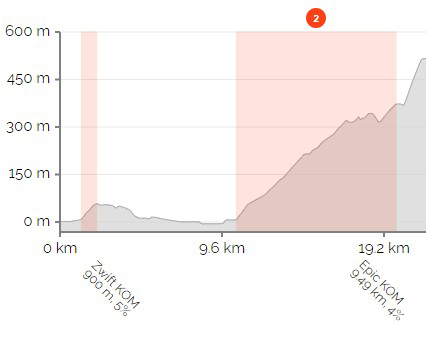 Segments in play
| Segment (in order of appearance) | Direction | Type | Scoring type | Scoring laps | Distance | Average incline |
| --- | --- | --- | --- | --- | --- | --- |
| Zwift KOM / Zwift QOM | Forward | Climb | FTS & FAL | 1 | 900 m (1.3 - 2.2 km) | 5% |
| Epic KOM / Epic QOM | Forward | Climb | FTS & FAL | 1 | 9.49 km (10.4 - 19.8 km) | 4% |