Stage 2 > London > Surrey Hills
| Course | World | Format | Classification | Total distance | Total elevation |
| --- | --- | --- | --- | --- | --- |
| Surrey Hills | London | Race | Hilly | 0.5 laps - 24.7 km | ↗ 582 m |
Welcome, riders, to a stage that's tailor-made for the mountain goats among us. Stage 2 of The DIRT Racing Series will take place on London's Surrey Hills course. This is where our climbers will truly shine, ascending to new heights and embracing the challenges that await.
Course Highlights:
Location: Surrey Hills, London.
Distance: 24.7 km.
Timed Segments: Fox Hill KOM, Leith Hill KOM (see below).
Race Format: Points Race.
Course Description:
The Surrey Hills course, set against the iconic backdrop of London, is your playground. For climbers and conquerors of peaks, this is your moment to demonstrate your indomitable spirit and climbing prowess.
Amidst the challenging terrain, you'll face not one, but two timed KOMs. These KOMs are the ultimate test of your mettle, pushing your physical and mental limits.
But what makes this stage truly epic is the custom finish line atop Box Hill, greeting you at the 24.7km mark. Box Hill is where champions are made, and it's the summit of your journey. It's your moment to rise above the competition, take in the breathtaking views, and celebrate your climb.
Riders, this is your chance to embrace the ascent, conquer the challenges, and leave your mark on the roads of Surrey Hills. The DIRT Racing Series is all about pushing boundaries and competing at the highest level!
Course map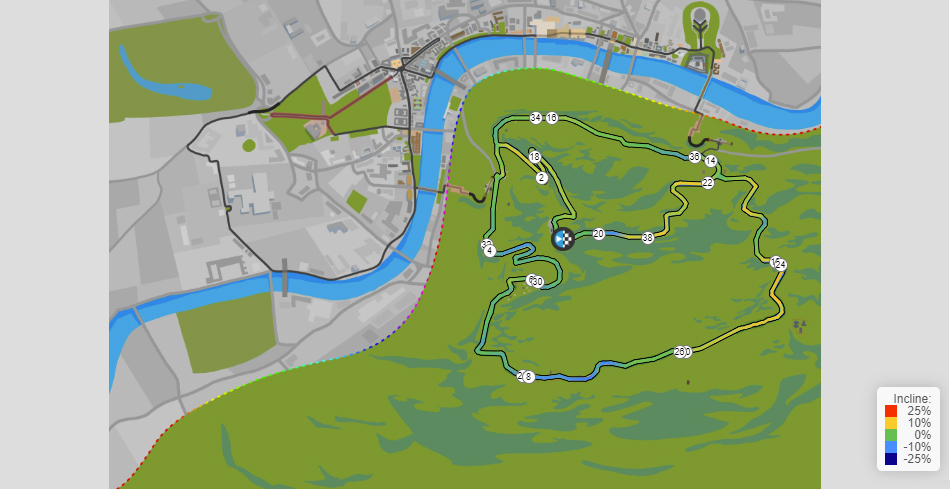 Course profile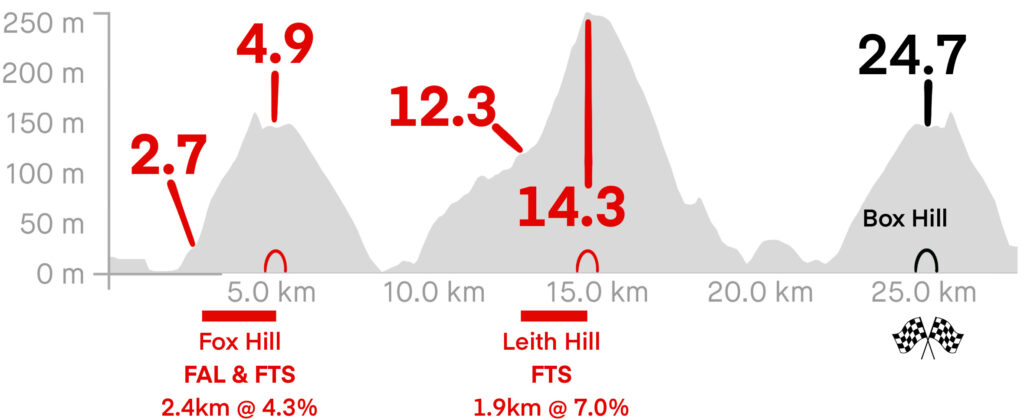 Segments in play
| Segment (in order of appearance) | Direction | Type | Scoring Type | Scoring Laps | Distance | Elevation Gain | Average incline |
| --- | --- | --- | --- | --- | --- | --- | --- |
| Fox Hill KOM | Forward | KOM | FTS + FAL | 1 | 2.4 km | 120.7 m | 4.3% |
| Leith Hill KOM | Forward | KOM | FTS | 1 | 1.9 km | 132.6 m | 7.0% |