Stage 2 > Innsbruck > Innsbruck KOM After Party
| Course | World | Format | Classification | Laps | Total distance | Total elevation |
| --- | --- | --- | --- | --- | --- | --- |
| - | - | Race | Mountainous | 1 | - km | - m |
In terms of profile, the "Innsbruck KOM After Party" ride is essentially ~30km (18 miles) of flat followed by a solid climb up the
Innsbruck KOM
. This makes for exciting race possibilities as riders with more pure power work to drop climbers in the early flat portion, while climbers claw back time on the final KOM.
We begin with three laps of
Innsbruckring
. This portion is quite flat, except for the famed
"Leg Snapper"
climb which is short but steep enough to really hurt in a multi-lap race. The sprint is located shortly after the "Leg Snapper", so be sure to save some of that energy!
After those three laps, we head out into the countryside for a ride up the
Innsbruck KOM
. This is a solid climb at 7.4km (4.6 miles) long with 400m (1311′) of climbing. The route finishes at the KOM banner, but why not keep going and enjoy the 5.7km (3.6 miles) descent? You've earned it!
Route Description from Zwift Insider
Course Map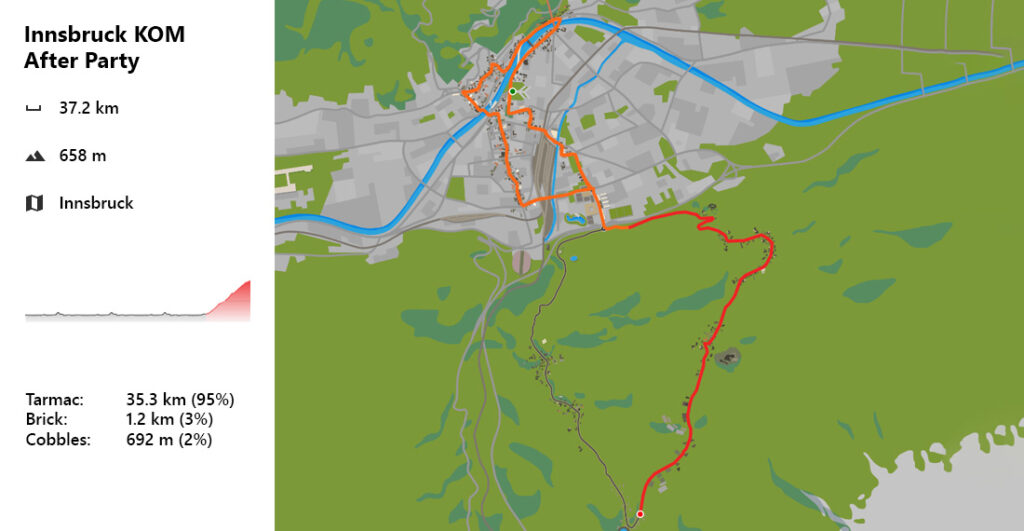 Course profile

Segments in play
| Segment (in order of appearance) | Direction | Type | Scoring type | Scoring laps | Distance (on route) | Average incline |
| --- | --- | --- | --- | --- | --- | --- |
| Leg Snapper KOM / Leg Snapper QOM | Forward | Climb | FTS | 2 | 435 m (13.6 - 14 km) | 6.9% |
| Sprint | Forward | Sprint | FAL | 2 | 300 m (15.4 - 15.7 km) | 0.0% |
| Leg Snapper KOM / Leg Snapper QOM | Forward | Climb | FTS | 3 | 435 m (22.4 - 22.9 km) | 6.9% |
| Sprint | Forward | Sprint | FAL | 3 | 300 m (24.2 - 24.5 km) | 0.0% |
| Innsbruck KOM / QOM | Forward | Climb | FTS | 3 | 7.4 km (29.6 - 37 km) | 6.0% |