Stage 2 > New York > Knickerbocker
| Course | World | Format | Classification | Laps | Total distance | Total elevation |
| --- | --- | --- | --- | --- | --- | --- |
| Knickerbocker | New york | TTR | Hilly | 1+ | 32.42 km* (custom) | 573 m |
Stage 2 of the DIRT Racing Series will take place on the challenging Knickerbocker course, featuring 22.5 km of hilly terrain and a total elevation gain of 346 meters per lap. In this new, mass start, Team Time Race format the Team time is taken from the 4th rider to cross the line based on the time shown by ZwiftPower. Everyone starts when the timer hits zero (banner drop) and draft is turned on, so be ready for one of the most intense races ever.
The race will begin at the start/finish banner and will consist of 1.5 laps for a total distance of 32.42 km and a custom finish at the top of the New York KOM. The Knickerbocker course is perfect for General Classification riders who thrive on challenging climbs and fast descents. This stage will require teamwork, strategic planning, and plenty of grit and determination.
As you make your way through the course, you will encounter several challenging climbs and descents, including the infamous New York KOM climb. The New York KOM is a steep and demanding ascent that will test your strength and endurance to the limit. After the New York KOM, be sure to take advantage of the fast descent that follows, as this will be your opportunity to recover and catch your breath before the next series of shorter climbs.
The Knickerbocker course is known for its challenging terrain, but it also offers plenty of opportunities for teamwork and collaboration. The race will require riders to work together in order to maximize their chances of success in the General Classification. This means staying together as a group, communicating effectively, and supporting each other through the tough climbs and fast descents.
Get ready to tackle one of the toughest courses on Zwift for a shot at victory!
Course Map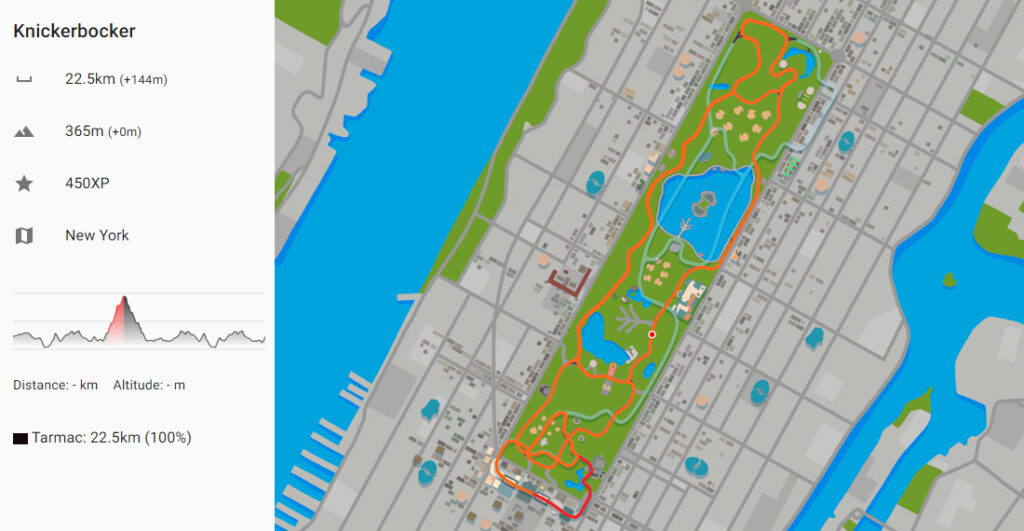 Course profile
Please note: the total stage length is 32.42km. This should place the finish on the top of the 2nd time New York KOM, but keep an eye out on the custom finish banner.

Segments in play
Please note: there are NO segments in play.
| Segment (in order of appearance) | Direction | Type | Scoring type | Distance | Average incline |
| --- | --- | --- | --- | --- | --- |
| - | - | - | - | - | -% |