Click on a chapter below to expand the item.
1. Our Overriding Principles
Race within the spirit of the rules. You can see what we're aiming for here so work with us. Don't try to game the system if we missed a loophole. We want to find the fastest bike riders not the smartest sneaks or fastest salad spinners.


Be honest with your stats and recognise that when we are eRacing the appearance of honesty is also crucial! Don't mess with your height. Don't lend your account to anyone else to play with. Don't find a massive weight drop the day before the Alpe du Zwift race.


If you think someone is operating outside of the rules, then have your Team Captain only come to one of the DIRT Race Control team and we'll work it out. Pitchforks not required.
2.1 Rider Info and Biometrics
Riders must have a fully registered ZwiftPower.com account that has enabled the sharing of rider data with ZwiftPower from your Zwift Profile Connections.
Riders would ideally have a fully registered DirtRacingSeries.com account that has your full name, correct Zwift ID and your DRS Role listed.
Riders must have accurate height and weight entered in-to their Zwift profile, either through Companion app or Zwift.com. Weight reductions of >2kg close to the event will require the rider to verify this with a weigh-in video.
Riders are not permitted to change their height, weight or any other biometric information from the point they enter the pen to when they exit the race.

Failure to comply will result in a Single Race DQ for the rider.

Riders should ensure that races in this series are saved as PUBLIC to ensure transparency.

In the event that a rider is reported to Race Control, then Race Control will request the original ZWIFT FIT file by Direct Message on Discord or email. This will need to be provided within 24-hours and failure to provide that FIT file will itself be a Single Race DQ for the rider in question.

In order to ensure accurate categoristaion by zwiftracing.app, riders are advised to have a race listed on their profile there that includes a maximal 5-minute effort in the prior 90-days.
Racing in a manner that artificially reduces your vELO rating on zwiftracing.app will result in disqualification from Summer of Champions races. If your vELO rating increases-above and falls-below a category limit regularly then you should race in the higher category to avoid this.
2.2 Rider Equipment
All riders must transmit power information to Zwift.

This can be done by using a Smart turbo trainer, Smart bike or Classic 'dumb' trainer with a separate power meter.
Don't use anything to generate power other than a bike or hand-bike (Ski-Erg and all power multipliers are prohibited).
Not transmitting power information to the game will result in a Single Race DQ for the rider.

All riders must transmit heart rate data with a heart rate monitor (HRM) directly to Zwift.

Not transmitting heart rate data will result in a Single Race DQ for the rider.

Riders without connected Power AND HRM devices to Zwift will NOT be able to enter the starting pen.
Rider Categories are based on your CURRENT vELO Ranking which can be found on your Rider profile page at www.zwiftracing.app.
You must be BELOW the vELO rating range limit listed below at the start of the race. If you are near a category limit, then we strongly advise you to race-up in the next category because results for the league do not transfer between categories.
In a single race, you may increase your vELO rating to up to 50-points over the category limit as a result of the race and your race will stand. If you breach category limits by >50-points, then it is likely you didn't have a maximal 5-minute effort in your race history and you will receive a single race DQ. Reviews can be requested but will be at the discretian of Race Control.
Summer of Champions category boundaries can be found in the table below, or at https://www.zwiftracing.app/reference/categories: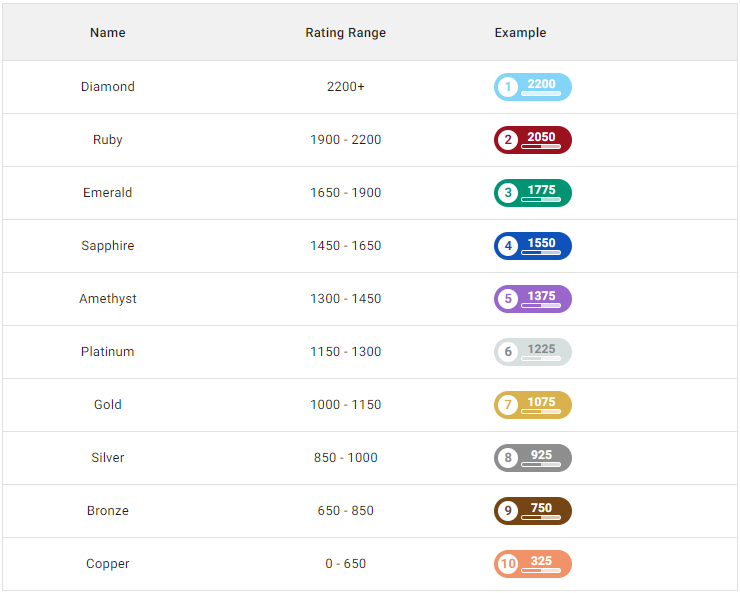 Starting Pens are listed here!


General rules that apply to all racing formats:

Use of techniques or equipment that would not be permitted, or not be effective, in real life cycling events, is prohibited. Although we recognise this can often be unintentional, the first offence will still be a Single Race DQ for the rider because the technique likely gave an unfair advantage.
Use of an in-game bike, or any other virtual equipment, that is designed for para-cycling athletes by non-para-cycling athletes is prohibited and will result in a Single Race Rider DQ.



Race specific rules:

Free bike and wheel choice, unless mentioned otherwise in the Stage description.
There are NO power-ups in play.
5.1 Leaderboard and Points
Leaderboards



Rider Classification

Accumulated Total Rider Points of a rider.
Best 6 out of 12 stages will count for the Rider Classification.
In the event of a tie, the total Rider Finishing Points will be used.



Points allocation in different Races



Race Stages:

Finishing Position (FIN):

FIN points are awarded to all riders finishing the stage.

Fastest Through Segment (FTS):

FTS points are awarded to the top 10 times through the segment on each lap – if listed on the Course Schedule.

First Across the Line (FAL):

FAL points awarded to the top 10 riders across the segment finish line on each lap – if listed on the Course Schedule.

Total Rider Points:

FIN, FTS and FAL points are totalled for each rider to give the Total Rider Points.
Finishing Points (FIN)




Fastest Through Segment (FTS)




First Across the Line (FAL)




League Points